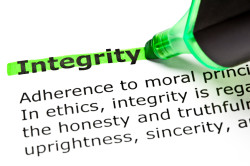 There is a lot of discussion of the word integrity in business books, in politics, in universities…in every walk of life.  I read about it all the time.  But, my father, General Jim Anderson, the former Master of the Sword at West Point, taught me more about integrity than any other source.  He says:
INTEGRITY requires three steps:
Discerning

what is right and wrong.

Acting

on what you have discerned, even at personal cost.

Saying

openly that you are acting on your understanding of right and wrong.