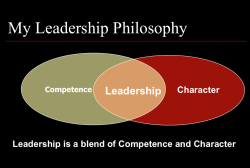 Leadership is a blend of competence and character.
BG (Retired) Jim Anderson, my father, taught me that. In 41 years in the Army, including two tours in Vietnam, he saw a lot of great leaders and a lot of leadership failures that formed his philosophy.
I started this website with this post.  I have learned a lot since then.  Thank you for joining me and contributing.  Every time you comment on a blog, you make me better.  Thank you for that!