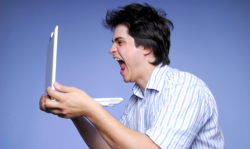 Email is a terrible way to communicate.  There are multiple studies showing about 50% of all emails are misinterpreted.  My experience and your experience probably support that fact.
I have received angry emails from my customers, my peers and my leaders through the years.  They can make me both angry and frustrated.  Unfortunately, the way I choose to respond to those emails usually escalates the emotions involved.
We all have a choice in how we respond to these messages.