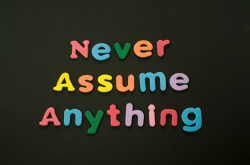 I couldn't wait to be promoted.  I knew all the things I wanted to accomplish.  I was also looking forward to the perks of leadership.  In the Army we used to say, "Rank Has It's Privileges (RHIP)."
But, years later, I realized that these sentiments were naive.  They seem real to someone who has not held a position of leadership.  But, once I earned that promotion, I learned that my assumptions were far from reality.
With every new class I teach, comes new leaders with the same assumptions.
This is a repost from April 2012.