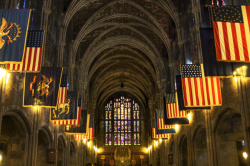 Thirty-two years ago this week, I entered the United States Military Academy at West Point as part of the Class of 1988.  This week the Class of 2020 began their journey as part of the "Long Gray Line".
In honor of Independence Day and the men and women who serve so we can have the freedoms to speak and to pray as we see fit, I am publishing The West Point Cadet Prayer.
Before you read it, ask yourself: "What challenge does this prayer offer me?" Whether you are a person of faith or not, I think you will find a challenge meant for you.