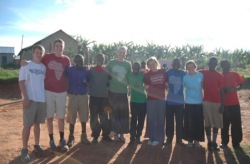 This is a copy of the last blog written by a student from the Brook Hill School who went to Uganda over spring break.  It also happens to be my 16 year old son, Jake.
I may be biased, but this is better than anything I have ever written.
See what K.I.S.S.  means to a 16 year old.
#Prouddad
Simplicity In Rwemikoma
Today's student perspective comes from Jake:
Time slows down in Africa. Emmy D comes to pick us up at least 45 minutes later than the agreed upon time every day, if we are lucky. Some of the Type A's around here are annoyed at least somewhat by this, however, when you take a step back, it is quite refreshing. Continue Reading…